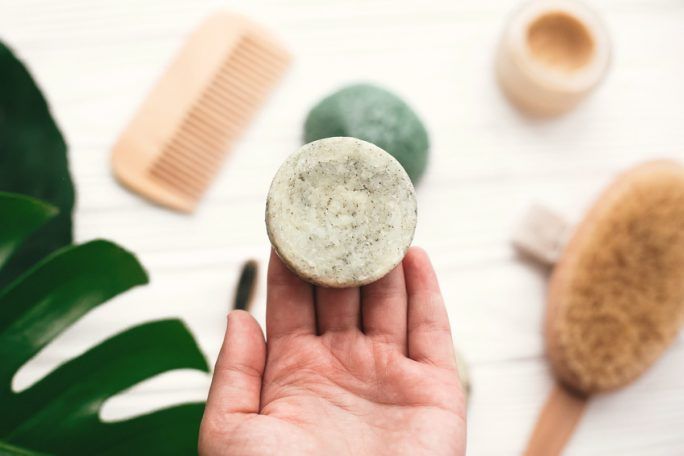 Shampoo Bar: What's the easiest way to use it?
I know, the name 'shampoo bar' triggers mixed feelings. I bet you ask yourself: "How am I supposed to wash my hair with a soap bar?!", but you know what? I'd wholeheartedly recommend you giving this product a try. Why would you swap your regular shampoo for this weird cleanser? Here is why.
What is a shampoo bar?
Yep, this is a kind of soap if you take into account its form, texture and use. What makes a shampoo bar different from regular soap is the formula. Most of all the former is an eco-friendly and all-natural product. Another thing that made people fall in love with a shampoo bar is the fact that this is a zero waste self-care product, and this is the quality that makes this cleanser amazingly popular. Lastly, shampoo bars are well-tolerated by the scalp and provide a deep clean.
What are the attributes of the best shampoo bars?
As I've mentioned this earlier, it must contain naturally-derived ingredients, meaning that along with cleansing agents, a shampoo bar should also contain nutrients. In other words, you can expect a shampoo bar to cleanse your hair thoroughly and deliver nutrients to the strands without stripping them off volume. Moreover, shampoo bars last long. In general one bar of shampoo allows you to do twice as much hair washing than you would get it from one bottle.
How to wash hair with a shampoo bar
Let's get to the point. How should you use a shampoo bar to wash your hair? Basically, using this cleanser isn't difficult but I understand that the very first hair washing may be a little bit problematic. This is how you should do it.
Firstly, rinse your hair with water thoroughly.
Now, reach for the shampoo bar. You can either start lathering it in hands and put the lather on the scalp, or start rubbing the bar against your scalp – however, never glide the bar against the hair grain.
Massage the hair and scalp.
Rinse thoroughly.
Re-wash if necessary.
Let me draw your attention to one thing. You can use the lather to nourish the hair ends. Just let it sit on the hair ends for a few minutes and rinse. You will see that an all-natural cleanser works as a conditioner, too.
TIP!

I guess you know that soap bars' pH is alkaline. If you don't want to end up with dry or dull hair after using a shampoo bar (note: this doesn't have to happen), use a vinegar hair wash. Don't use too much vinegar, a tablespoon per a cup of water should do. Actually, you can also get yourself a ready-made product. I'd recommend you using a rapeseed vinegar hair wash that Yves Rocher has in its offer.
Hair treatments after using a shampoo bar
Okay, you've washed the hair – what's next? You can follow either with a regular hair conditioner of your choice, or go for… a conditioner bar! I'd also suggest following with a lightweight spray conditioner, for example a bi-phase conditioner that won't weigh your hair down.
Have you ever washed your hair with a shampoo bar? Did you like it? Do you have your favorite? Let me know in the comments! Cheers!
Previous
Green concealer – How to use it to avoid Shrek effect?
Next
NANOIL hair mask with argan. Review, comments, benefits