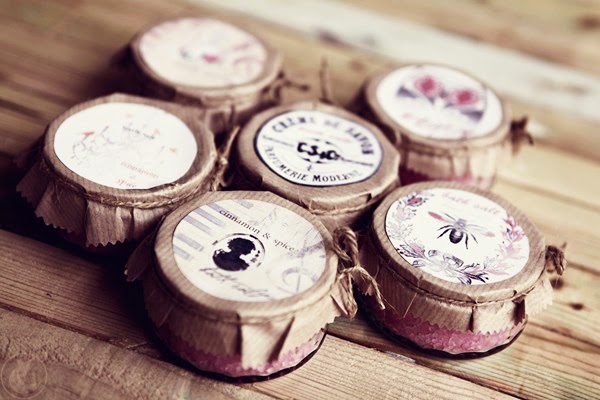 Perfect Gift: DIY Bath Salt!
If you want to give somebody a noncommittal and original present or create a scented nourishing bath salt for yourself, you're in the right place! You can read about 3 brilliant bath salts that boast an amazing smell and a superb conditioning effect on skin. It's good to try at least one because the effect will stun you after just one bath. Plus, a scented bath salt makes a perfect gift!
Bath salt: why is it a good choice?
We tend to forget that sea salt is a rich source of minerals. It abounds in micro-elements that are essential for the body to function properly and are known as the elements of life. The skin after a salt-rich bath is smooth, elastic and supple. Lots of types of bath salts help fight cellulite and make stretch marks less noticeable!
Do you know two most popular types of salt that are added to bath salts?
Himalayan salt: lovely pink crystals are mined from 500 metre-deep deposits formed hundreds of years ago. Salt crystals are hand-picked and they are free from any impurities. Instead, Himalayan salt is high in precious minerals. The pink salt has a disinfecting effect, repairs the skin, relaxes and stimulates tired bodies. Additionally, it detoxifies the body and helps treat skin conditions but also other health issues.
Epsom salt

: apart from brilliant soothing and repairing effect, it has an extra asset: budget price. It helps relieve the nervous system. Epsom salt bath calms you down and helps relieve pain in the limbs and back, plus it soothes tired muscles after physical work or hard workout. Epsom salt helps keep the body healthy, repairs and detoxifies the body, and replenishes magnesium. Sulfur in the salt has a good effect on the skin, makes the hair strong and shiny, and strengthens the nails.
Recipe for DIY bath salt
1 lb of coarse-grain Himalayan salt
0.5 teaspoon of argan oil or almond oil
40 ml of liquid soap
Note: choose between two options. Either use scentless soap so that your salt smells of essential oils you've picked or your favorite scented soap.
Essential oil or blend of oils you like.
Food coloring (optional). I like the pink color of Himalayan salt.
Extra ingredients (optional): dried flowers, a small amount of pink clay, and – if you like it – some glitter.
Now, you need to put the dry and wet ingredients in two bowls. The dry ingredients obviously include the salt, and flower/herbs/glitter if you add them. The fluid substances are oils, colorant, and soap. Mix them and then put the ingredients from both bowls in one container and mix them well.
Pour your salt into a jar and decorate it with a nice wrap and a ribbon or a string. Your gift is ready to go!
Compose lovely scents, mix different ingredients and essential oils, use color additives (make sure they're safe and non-toxic).
Let me know if your DIY bath salt worked out well!