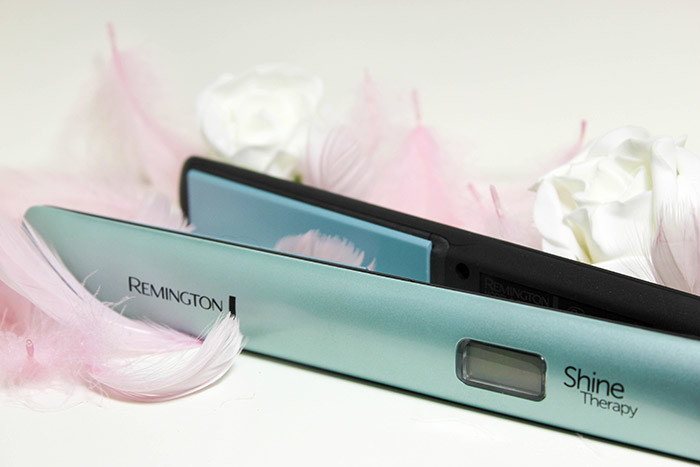 My fav flat iron. There is no better one than Remington Shine Therapy!
Hello!
Perfectly straight hair is something that I truly like. The strands can't be spoilt by even one bend, the tiniest curl or curved hair end. Therefore, I keep straightening my hair every day. It also happens that I apply a few touch-ups during a day to make my hair look flawless. Remington Shine Therapy is the tool that helps me with this task.
Remington Shine Therapy flat iron is incredible!
The reason I bought this device was very simple. As the only one in the entire shop it had ceramic plates infused with argan oil and vitamin E. While the device is heating up, these nourishing substances start releasing themselves so as to get transported onto the strands while straightening. The result? State of hair becomes significantly improved, the strands are smoother and more shiny. Moreover, Remington Shine Therapy flat iron:
has a digital display with 9 temperature settings;
is ready to use within 15 seconds;
has movable plates which provides even pressure put on hair;
it turns off automatically after an hour;
features Turbo Boost function, which enables a user to heat up the device to its maximum faster;
features temperature control function.
How do I use Remington Shine Therapy flat iron?
I straight my hair right after washing it and drying out. I apply a heat protection product. In most cases it is a regular mousse bought at a drugstore. Then, I divide my hair into smaller sections and begin with straightening. I set the temperature at medium and run the flat iron from the roots to the hair ends. Once I make all my hair growing on one side straight, I move to the other side of my head. After more or less 15 minutes my hair is perfectly straight. To me, a big plus of Remington Shine Therapy is that is smooths hair and baby hair.
Things worth realizing while using a flat iron
Even if you have the best flat iron in the universe, you must take proper care of hair before, during and after the procedure. To clarify, remember to comb the hair precisely, apply a heat protection cosmetics and treat hair ends with a serum once you make the strands straight. Don't use a flat iron on wet hair, don't set the temperature of the tool to maximum. Moreover, don't press the plates too strongly and avoid keeping the plates in on place for too long (pressing the same part of hair for long). If you follow these pieces of advice, your hair will surely remain beautiful.
What is your favourite flat iron, girls?
Previous
How to Naturally Lighten a Hairdo? Safe Ways to Change Your Hair Color