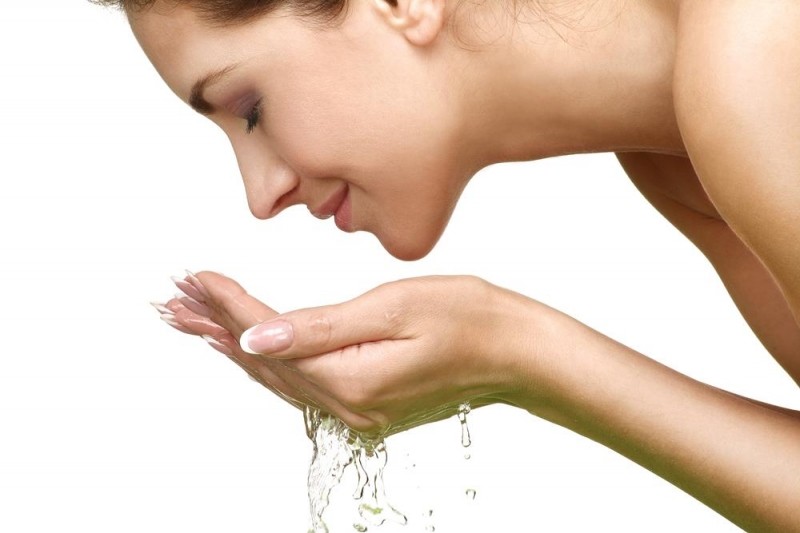 How to cleanse the face thoroughly? Face cleansing & face and eye makeup removal – my methods
Do you know the dirty cotton pad syndrome? I have been experiencing it since I began to apply makeup, and hence – purify my face. Regardless of how much time, work and cotton balls and pads I use for my evening makeup removal, it is still dirty. The natural consequence of a dirty cotton pad in the evening is a dirty cotton pad in the morning. My bright pillowcase, which I stamp with my own face throughout the night, is clean, and the cotton pad I wash my face with in the morning is dirty. How is this possible? Since the age of thirteen, I have been wondering how to cleanse my face to actually purify it, and only recently have I found the answer to this question. Discover my methods to cleanse the face and remove makeup.
Face cleansing vs. makeup removal
Facial skin is delicate and sensitive, so we shouldn't wash it with soap that dries it up and irritates. Instead, use special, delicate facial cleansing products that not only remove the impurities but also provide it with the right level of hydration, pH, and anti-bacterial properties. Remember! The fact that you do not wear makeup does not relieve you of the obligation to thoroughly wash your face every morning and evening. While makeup removal consists of removing makeup, sweat, tallow, and dust from the skin, cleansing the face is designed to deprive it of sweat, tallow, and dust, which never stops depositing on it just because we gave up on makeup application. The unpurified skin is unable to breathe freely, and thus the blackheads and pimples are likely to appear. I can't stress this enough, facial cleansing is the basic care element for EVERY woman, in other words – if you only have a face, cleanse it! (I want to be sure that I express myself clearly).
Face cleansing soap-free
In general, most soap bars tend to dry out the skin no matter if we use to wash our hands or the face. The biggest sin I used to commit on a daily basis wash washing my face with an ordinary soap and water. Why? Because soap changes the skin's pH into alkaline and rinses out fatty substances; as a result, the skin is dehydrated and dry. The situation is worsened by running water, which is not the healthiest option, especially for dry skin.
Of course, there are soaps that are suitable for facial cleansing. These are specialized soaps, for example with peeling or antibacterial qualities, the so-called syndets, which do not degrease skin and have neutral pH. Also, soaps designed for face washing adapted to the specific needs of the skin.
Face cleansing and makeup removal – my proven methods 
In order to cleanse the face, you can reach for a milk, lotion, mousse (or foam), gel, or syndets. Each of you should choose a cosmetic that will meet the needs of your complexion. I've already tried out each of the products and now I know that a gel suits me best. Why a gel in particular? I didn't like using milk and lotions because they are supposed to be applied without water. In my opinion, there's nothing better to cleanse the skin like water, but maybe it's just me. Anyway, I was left with a mouse, a gel, and a syndet. Each of these products has its own advantages but using a gel was most pleasurable for me. I like it for the consistency and additional properties, for example, exfoliating.
Before I start washing my face, I wet it with pure water and then, apply a bit of gel to the face and neck. I massage the skin in circular motions. As a result, all the impurities accumulated on the skin surface are being dissolved and removed. Also, the blood circulation is improved. I massage the cheeks from the nose towards the temple, the forehead in the direction of the hair and the neck up. I do not forget about the lips that I massage making small circles. At the end, I rinse the gel with lukewarm water.
Furthermore, I wipe my clean and dry face with a toner. This way, I remove all traces of cosmetics, soothe the skin and restore its proper pH. How do I do it? Just soak your cotton pad in a toner and gently wipe the face. Next, I wait until I can be sure that the cosmetic is fully absorbed, and then I apply an appropriate cream.
Cleansing and eye makeup removal – my methods 
I always start my evening makeup removal by washing off my mascara. If the one you use is waterproof, you must use a bi-phase liquid. I reach for it, even though the mascara that I have remained faithful to for years has no waterproof properties. I choose it because it works quickly. First, I wet a cotton pad with it, then I gently but firmly press it against the closed eye for a few seconds. Next, gently slide it down and into the inner corner of the eye. I do it until the cotton pad is completely clean.
Eco-friendly makeup removal 
A glove makeup remover, konjac sponge or a muslin cloth are a good alternative to traditional makeup removal.
The glove removes makeup using only water. It is made of a special microfibre with electrostatic properties, thanks to which it attracts and removes all impurities. The glove washes away even waterproof cosmetics. In addition, it does not change the pH of the skin, so there is no need for a toner to restore it. After use, just rinse it with soap and water and let it air-dry.
Konjac sponge is made from the roots of Asian perennial. Initially hard, after soaking – it softens and effectively removes impurities and sebum. Its use requires a cleansing gel. After you have finished removing makeup, you must rinse it, squeeze out excess water and hang it in a well-ventilated place. You can choose sponges with additives, including carbon, clay and green tea.
The muslin cloth is made of cotton and should be used with oil to remove makeup, impurities and dead skin cells. While the makeup removal glove and konjac sponge need to be replaced every 3 months, the muslin cloth will last longer if you wash it regularly. In addition, it acts as a mild exfoliating scrub, so it improves blood circulation in the skin.
You should try out eco-friendly makeup removal especially if you have allergies or sensitive skin, because the makeup removal glove, the konjac sponge, and the muslin cloth limit the number of preparations and substances that can cause a bad reaction of the skin. If you are crazy about ecology, this solution is perfect for you, especially when traveling, and when the lightness of luggage is of great importance.
Eco-friendly makeup removal – my opinion 
I've tried each of the ecological ways to cleanse the face and remove makeup. The glove, sponge, and the cloth helped me get rid of my makeup effectively and are relatively durable (especially the muslin cloth), so I can recommend them all to you. My problem is that I do not like reusable accessories that should be washed regularly, otherwise they are visibly dirty. That's why I do not use a beauty blender for applying liquid makeup cosmetics. However, I cannot imagine my life without a brush for loose products, such as powders or bronzers. I just do not wash them as often, because dirt is not that visible on them. 😉
What are your ways to cleanse your face and remove makeup from your face and eyes? Have you tried eco makeup removal? If so, what do you think about it? I am waiting for your feedback in the comments!
Previous
My ways for relaxing and healthful baths