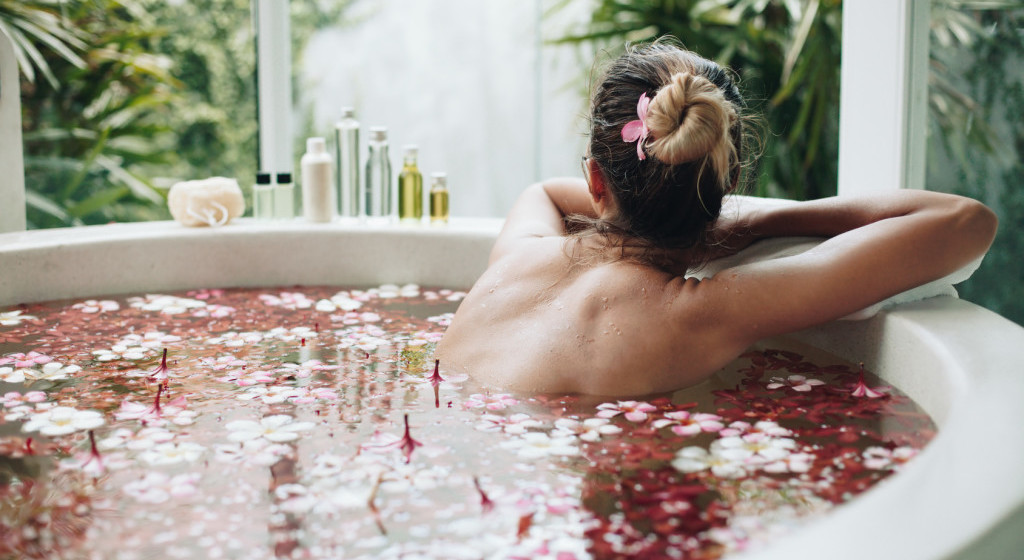 My ways for relaxing and healthful baths
Do you also just love bubble baths?
Only recently, I have discovered the amazing properties of baths with the addition of aromatic herbs, oils, and other natural ingredients. Earlier … I did not even own a bathtub! In hindsight, I think that buying and fitting it into my tiny bathroom was one of the best decisions I've ever made. I cannot imagine a weekend evening without a warm, aromatic bath.
How about you? Do you also like to relax after a hard day at work in the comfort of your bathroom? If so, I have prepared my proven recipes for relaxing and healthful bathe especially for you. If not, try one of these recipes – you may fall in love with herbal baths just like me!
RELAXING AND HEALTHFUL BATHS
You can make them yourself at home as long as you have a bathtub and some basic ingredients. What you add to the water and what the temperature will depend on the effects of such a home SPA. Relaxing baths will bring relief after a hard day at work, a healing bath will solve some health problems, a warming bath will improve well-being on a winter evening, and a refreshing bath is ideal for a hot summer. I usually reach for relaxing and health-improving ingredients.
I guarantee you that you will fall in love with this way of relaxation.
HOT OR COLD BATH?
I would like to start by resolving a simple question: what should the proper bath temperature be like? Contrary to appearances, it is of great importance whether we choose cold or, warm water.
Cold bath is especially recommended in the summer, when we need refreshment or after a heavy meal because it speeds up the metabolism. Some people like to take a cold shower in the morning to wake up, and the same applies to cold baths. This is a very good solution also for obese people or with cardiovascular diseases. The low temperature constricts the blood vessels and regulates the arterial pressure.
Hot bath helps to relax, because muscles relax in the warmer water. The blood vessels relax and the nervous system is stimulated. As a result, warm (but not hot!) bath has a toning and cleansing effect. It is recommended to draw warm baths in the evenings, because they really allow you to relax making it easier to fall asleep after such an at-home SPA.
I did not give any details? Here they are!
The ideal temperature of a relaxing bath should be close to the natural temperature of our body, that is 36-37 degrees C. You do not have to run around a tub with a thermometer, you can tell by eye. If after immersion of the foot, you do not reverse it automatically, because the water is too cold or too hot, this is the ideal bathing temperature. 🙂
RELAXING BATHS
I love taking such baths after returning home from work. They guarantee a moment of relaxation, bring relief to my muscles, calm my thighs and soothe my nerves. It's enough to prepare a relaxing bath according to one of the following recipes. Because the key to success is to adjust the ingredients!
Relaxing bath with rose petals – the most popular, appearing in many films, a relaxing bath that we can do at home. All you need to do is pour a handful of fresh rose petals into the warm water. Under the influence of heat, they give their properties to water and make the bath will be a pure pleasure with conditioning qualities.
Relaxing lime bath – boil linden flowers in a pot (250 g of flowers per 0.5 liters of water). Drain the resulting brew and pour it into a bathtub with water. You can pour some fresh linden flowers into it as well.
Relaxing honey bath – dissolve two spoonfuls of natural honey in a glass of warm milk and add them to your evening bath. If you want, enrich it with a handful of lemon balm.
Relaxing milk bath – prepare wheat bran and milk. Boil at least 1 liter of fresh milk and pour into a bathtub with warm water. Bran wrapped in gauze or a thin bag of natural material, immerse in water – if you pour them loose, they will stick to the body. The idea is to give valuable nutrients to the water.
BATH TREATMENTS
I know from my own experience that all kinds of herbs and ingredients with healing properties are also worth adding to the bath, because they take on completely new properties. They not only relaxes, but also treat skin problems, bring relief to muscle and joint pains. What additives make bath start having health-promoting properties?
Marshmallow, flax, and linden – a mixture of herbs ideal for soothing baths, thanks to which we will reduce skin irritation and inflammation.
Flowers and seeds of chestnut – they help solve problems with cracking blood vessels, strengthening and sealing blood vessels. Just add the infusion to warm water.
Brine bath – bromine and iodine are compounds that have a calming and soothing effect, but also help to cure dermatological diseases and allergies.
Calendula, chamomile – have anti-inflammatory and bactericidal qualities, therefore they work well for baths that help in skin regeneration, allergy prevention, and reduction of acne
Previous
Face masks recipes for various skin types