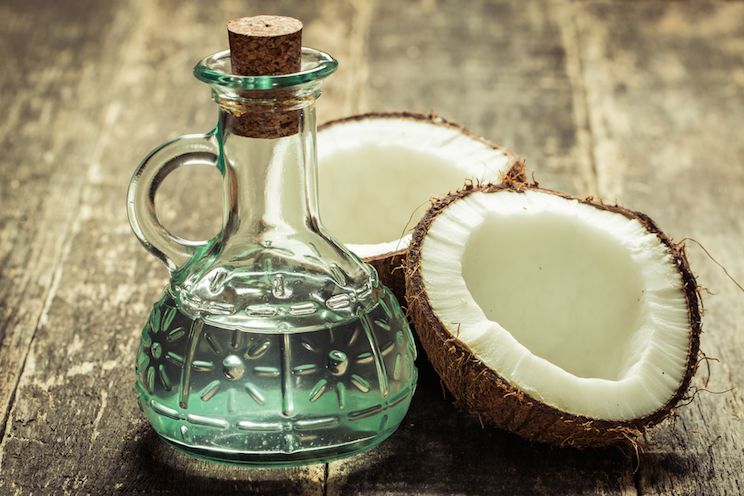 Natural and versatile cosmetic – the wonderful c
Not only does it smell beautiful, it's also efficient and works for everything … ok, maybe I exaggerated it a bit, but I want to tell you that coconut oil is a brilliant cosmetic that is able to fully replace a number of other products in the bathroom. Coconut oil is perfect for a holiday trip: you can only take 1 jar and you'll have a night face serum, makeup remover, hand and foot cream, body lotion, under-eye cream, hair conditioner (in the form of a mask or as a serum applied to the ends), nail care oil, massage oil … in other words, coconut oil provides you with all the essential care.
I am sure that a majority of you have already heard about the marvellous properties of coconut oil. I can also bet that this white butter, more lardlike than oil, has as many supporters as opponents. I encountered opinions saying that coconut oil increases hair frizziness. That's completely true! Coconut oil is not recommended for all hair types but for heavy, thick type with low porosity. Personally, I'd be afraid to apply it to my hair on its own. Therefore, I prefer trying out oil blends that have been developed with experts' assistance. Coconut oil combined with other oils or herb extracts is a great base product and macerate: it is willingly added to various cosmetics as it prevents bacteria from multiplying and delivers antisceptic properties. As a result, it not only takes care of the skin (regardless of whether it is the scalp, face or body), but also extends the validity and freshness of other cosmetics.
You are probably most interested in its use in cosmetics. In fact, its properties are priceless. Today, I will describe the benefits of coconut oil in regard to body, hair and face care. Also, you'll learn why it's so wonderful and versatile that it outclasses all other oils and why every woman should have it in her bathroom.
Here is the entry in which you will find all the essential info about coconut oil. I will try to explore the topic in detail and make this post the only article about coconut oil you'll ever need. I must also say that I have been using this oil fiercely for over a month, so I have a lot of experience to tell you about! ;);)
You will learn, among others:
What does coconut oil contain?
What's better: refined or unrefined coconut oil?
What hair type does coconut oil match? Why does it increase frizziness in some cases?
Is it true that coconut oil whitens teeth?
Is it true that it works like an antibiotic?
Does coconut oil fight acne?
Does coconut oil reduce wrinkles?
What's coconut oil made of, what does it contain?
Coconut oil is a real bomb of vitamins and – above all – minerals. No other oil contains as many minerals as this one; it includes, among others: magnesium, potassium, zinc, phosphorus, calcium, iron, folic acid, and vitamins: E, B, C.
That's also the reason why coconut oil is suitable not only for hair but also brings benefits to the entire body. It works as an anti-age treatment, provides the skin with a diversity of minerals, vitamins, moisturises bo the hair and skin. Moreover, Coconut oil will be perfect for the summertime: it will strengthen the hair, protect is against sun radiation, dehydration, and sea salt water (thus it is good to take it with you on holiday). It is also worth mentioning that thanks to the SPF 10, it protects the skin against sunburns. In addition, it combats bacteria and parasites, gently disinfects and prevents the multiplication of bacteria. This is a good detox for the skin: coconut oil perfectly cleanses the face, body and scalp. All thanks to the presence of saturated lauric acid – this is a unique oil, with antiseptic properties. Therefore, the statement that coconut oil acts like an antibiotic is not devoid of the truth 🙂
Since coconut oil soothes irritation and removes toxins – I also recommend it as a makeup remover. At first, I was a bit sceptical about the well-known Oil Cleansing Method (OCM). I kept wondering, how's it possible to use oils on the face when I am constantly dealing with acne and excess sebum secretion. With oils? I would have to use a greasy oil?! Well, I cannot explain how surprised I was when I finally learned how it works! It turned out that oils do not increase sebum secretion! On the contrary, they moisturise the face, regulate pH, cleanse and balance the sebum! I like to combine coconut oil with jojoba oil, which additionally contains squalane, an ingredient found in human skin that restores its balance and perfect hydration. Thanks to this feature, my face is not too oily nor too dry, and all inflammatory spots and small blemishes are simply healed. Wonderful:) I think that each of you will love makeup removal with oils and when you try it out – you will not want to change the oil for anything else 🙂
The only thing you need to buy in addition to the oil (the best is coconut oil or jojoba, and for mature skin, you can also reach for argan oil), is a special, muslin cloth that you will wash the oil off the face after finishing the makeup removal.
Coconut oil in the kitchen – why and how does oil make you lose weight? Yes, you got this right, coconut oil does help to lose unnecessary kilograms. All thanks to the already mentioned saturated lauric acid, which stimulates thyroid activity and has a direct impact on the metabolism. In our body, lauric acid is transformed into monolaurin, and it has purifying, detoxifying and bactericidal properties. Good-bye, unhealthy trans fats 🙂 Monolaurin will deal with you once and for all:D
Since we are talking about food you should remember that coconut oil is edible, for example, you can spread it over bread or add to a salad, and use it for frying without hesitation (coconut oil has a high smoking temperature, and this simply means that it tolerates high temperatures well and does not release harmful substances as quickly as other oils).
Furthermore, coconut oil can be sucked! Surprised? Probably no less than I was when I read about it. Why do you do it? It turns out that coconut oil takes care of the mouth better than any mouthwash. Coconut oil prevents the bacteria from multiplying, protects teeth and makes them as white as the snow:) Most girls suck on coconut oil for that particular reason, but it is worth remembering, it has a positive impact on the whole body.
We already have a broad spectrum of coconut oil uses: eating, sucking, weight loss, makeup removal…we can also add a massage to that list (especially the parts of the body affected by cellulite and stretch marks). Coconut oil is also suitable as a serum for fragile and brittle nails: it regenerates the plate and increases its elasticity.
Those of you who have thick and heavy hair, and constantly fight with oiliness at the roots, will be interested in the fact that coconut oil takes a great care of such hair type (professionally called the low porosity hair). It lifts it at the base, disinfects the scalp, reduces oiliness and at the same time does not dry out hair nor the scalp. I admit that my hair is unfortunately not low porous, so I mixed my coconut oil with other oils … the effect was, of course, different and there is nothing to complain about, because, unfortunately, self-made mixtures are full of mistakes and not much of a success.
Later, I came up with a brilliant idea not to bother myself. Since there are so many great hair-care oil blends in stores I wanted to try out one of them and compare to my homemade cosmetics. Thus, after a long and careful online research, I finally chose the right product for me, it was the oil for medium porosity hair. Its composition was also enriched with coconut oil, which it is a great base extending the freshness of not only other oils, but hair in general 🙂
In the end, I have nothing else to say but to dispel some doubts about the GOOD VERSION of COSMETIC COCONUT OIL, that is:
Coconut oil in the bathroom – refined or unrefined?
You probably already know that coconut oil can be found in stores in two versions: refined and unrefined. For beauty purposes, it is better to go for the unrefined one. The unpurified oil (and not deprived of minerals and vitamins) has a beautiful coconut fragrance. It would be best, if you could buy BIO or ORGANIC unrefined coconut oil – then you can be sure that you have made the best purchase 🙂
If you use coconut oil, or you know its other uses – tell me about them 🙂 Kisses'n'hugs babes! 🙂
Previous
Lymphatic drainage massage for face. How does it look like and what are the effects?