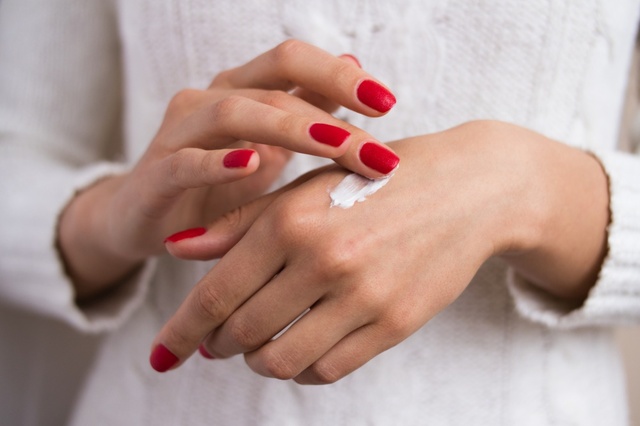 Let's rescue hands! How to take care of rough and dry hands daily?
Personally, I consider hand care as the most important. After all, these are hands that we show the most frequently. If you have a 'Bad Hair Day', you can always put a hat on, yet your hands are always out, they are a kind of ours flagship. How to take proper care of them? What are the effective ways of dealing with dry hands?
Dry and rough hands – Reasons
Never before did I have to struggle with the problem of dry hands. Chapped skin around knuckles, very rough and really hard to moisturise is a problem which raised and affected me more or less three months ago. I started wondering why my hands are so dehydrated. After all, I've been using a hand cream every single day. What else can I do? And why I had never experienced a similar problem before? I decided to look for more information concerning this issue.
I learnt that most frequently the problem develops as a consequence of skin being dehydration-prone by its nature. In other words, skin naturally loses water in excessive quantities, which is hard to control. It's strictly connected with the hand skin structure which lacks sebaceous glands and fatty tissue so it isn't well-protected from the negative impact delivered by external factors. Unfortunately, because of that, skin loses moisturisation and can become dehydrated very fast. The aftermath is easy to foresee and well-known to all of us, I guess.
It's the lack of water that makes hands become:
very rough to the touch,
visibly dehydrated,
painfully chapped,
reddened and scaling.
I bet, you're going to comment: Ok, but hands don't get dehydrated just like that. Of course, they don't. So far, I've managed to maintain hydration at right level without the necessity of exposing the hands to any special treatments. Unfortunately, the beginning of our hands becoming dry and rough is determined by a few factors.
The most common causes are:
adverse weather conditions e.g. frost or wind,
soaps of strong alkaline reaction,
using too hot water for hands washing,
diet lacking water and nourishing substances,
cosmetics containing a huge amount of preservatives such as alcohols,
being in a frequent contact with detergents during, for example, tiding up,
chronic skin disorders.
HOW TO TAKE CARE OF HANDS WHICH ARE VERY DRY?
You can't give up even if, as it is in my case, most of the ideas went off half cocked. If a cream didn't work out then there are plenty of others that surely will. We must be persistent and give a go to many ways of dealing with dry hands. Eventually some will turn out to be suitable for us. I would like to tell you how to pamper your hands. The most important though are the things to avoid. Indeed, there are plenty of factors that affect hands negatively. Hence, it's worth realizing what the adverse factors are. In general, it's worth:
remembering to apply a protective hand cream often,
avoiding detergents by putting on protective gloves,
limiting hand washing in hot water,
avoiding keeping hands in water for long (a few-hour long baths don't serve hands well),
learning the right technique of hand washing,
not ignoring cold protection (gloves are a must!).
A good hand cream is essential!
Good means the one that matches our hands needs. Using just some hand cream isn't a good way of taking care of hands. Dry and rough hands definitely need a cosmetic delivering comprehensive action which doesn't only nourish skin but also slows down water loss from epidermis. Additionally, such a cosmetic should restore epidermis protective layer (hydro-lipid) and soothes irritations.
A good hand cream, when it comes to the issue we're discussing, should contain a set of ingredients like, for example: petroleum jelly, glycerine, silicones, allantoin, aloe, rose oil, water lily extract, vitamins A, E and F, pro-vitamin B5 as well as UV filters. Of course, it isn't possible to find a cosmetic containing all the listed ingredients. However, do your best to find a product that will combine emollients (e.g. vegetable oils) with humectants (e.g. urea).
Especially during the winter, when dry hands can be taken for granted, it's advised to expose your hands to a regenerative treatment once in a while. In this case, it's worth making a good use of a strongly moisturising hand cream, hand mask, oil or vitamin serum. Apply one of the products, secure it by putting on cotton gloves and left overnight. I can ensure you that the effect will amaze you!
Are there any other ways of coping with dry hands?
You can look for some support in everyday hand care among home methods which have been already known and applied by our grandmas. I have to admit with regret that I rarely have time to prepare homemade hand masks for dry and rough skin, therefore, I rather reach for ready-made creams. Don't get me wrong, I highly appreciate all the features that homemade cosmetics have.
The best home remedies dealing with dry hands are, for example:
1. Homemade hand mask – in this case, a cooked and mashed potato mixed with warm water or egg yolk combined with honey and butter work wonders. As you can see, we have to combine dairy products (source of proteins) with natural oils. Just 15 minutes are required to let the homemade cosmetic sit on your hands and soothe them. Of course, it's a good idea to secure the homemade hand mask with food foil or gloves.
2. Homemade hand peeling – removing dead epidermis cells is very important because thanks to peeling skin absorbs nourishing and moisturising substances delivered with care cosmetics way better. A base ingredient you might use to create your homemade hand peeling is olive oil, honey, aloe or any other vegetable oil. As exfoliating particles you can reach for brown sugar, salt sea, oat flakes or coffee grounds.
Previous
What harms the hair? What to avoid to have healthy hair