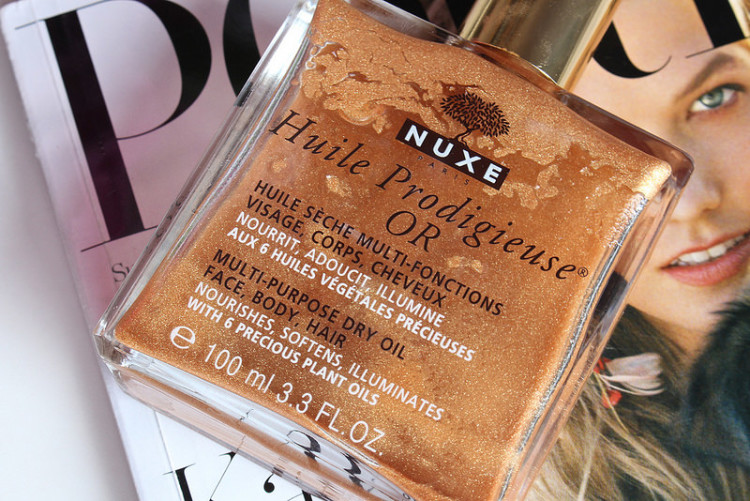 It's time to brighten the skin. Will dry oil from Huile Prodigieuse Or work?
Hello!
Beautiful, flawless and radiant skin is one of the most important features of every woman. If you wish to have it, I can tell you how to achieve it. Try out Huile Prodigieuse Or dry oil by Nuxe. For me, it worked perfectly both in the summer and in the winter. Are you interested in the effects? Keep on reading!
Nuxe dry oil – what exactly is it?
At first glimpse, it might seem that dry oil is something weird and should not even exist. Meanwhile, Nuxe has such a thing in its offer! Huile Prodigiesue Or is nothing else but a cosmetic that is quickly absorbed right after the application without leaving a sticky layer on the skin's surface. Nuxe Dry oil soothes the skin, brightens it up, makes it soft and leaves a pleasant scent throughout the day. What is more, Huile Prodigiesue Or works well for hair care! It will make your hair smooth and shiny.
What does the dry oil from Nuxe contain?
Huile Prodigiesue Or comprises golden particles and a variety of natural plant oils. Those include: sweet almond oil, camellia oil, borage oil, hazelnut oil, macadamia oil, argan oil and Japanese camellia oil. The product does not contain silicone, therefore it is ideal for sensitive skin. Also, it has a beautiful scent of orange blossom, magnolia and vanilla. This aroma would cover the whole body for a long time.
How to use Nuxe dry oil?
I like to apply the oil to my entire body and hair. It makes my face and neck soft and smooth as well as brightens and rejuvenates. The product can be added to your favourite body lotion and it will be perfect for a massage. In my opinion, Huile Prodigiesue Or is a great idea for the summer when the sun rays will reflect the glowy skin. The dry oil from Nuxe will beautify the hair as well – it will be silky smooth and shiny with every movement.
What is your recipe for radiant skin and shiny hair? What's your go-to product for brightening the skin? Have you ever used Huile Prodigieuse Or dry oil by Nuxe? Let me know in the comments!
See you soon! 
Previous
The sworn enemy of all women! What's edematous cellulite? How to get rid of it?