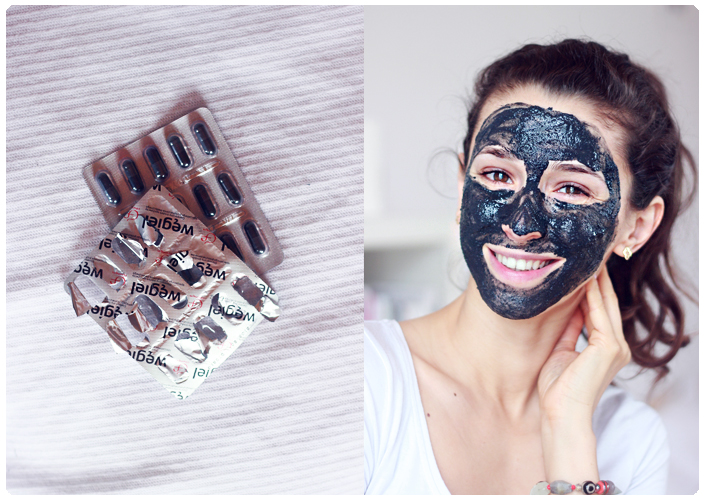 Do you have acne-prone skin that needs to be thoroughly cleansed? Active charcoal mask is just for you! [Recipe]
You have probably already seen active charcoal more than once. We are talking about the same black pills that you buy for stomach problems. Admit that when activated carbon helps you cure the symptoms of food poisoning, your rescuer lands at the bottom of the first aid kit, where it's running out of its shelf life. It does not have to be this way. Hardly anyone knows that activated charcoal is used cosmetic. If your complexion is acne-prone or mixed by nature or needs to be cleansed for another reason, the active charcoal mask is just for you. The mask will help remove excess of sebum, blackheads, and discolorations. What properties and cosmetic use does active carbon have and what is the recipe for a mask with activated charcoal? How to use it, how often to apply and how did it work for me?
Activated charcoal – cosmetic properties
Activated charcoal is often used in skin and hair care because of its bactericidal, cleansing and astringent properties. Dissolved tablets effectively cleanse the skin of impurities, excess sebum and toxins. In addition, it evens out skin tone, and thus – brightens discolorations. Are you wondering how is it possible? Activated carbon has the ability to absorb dangerous substances and works more strongly than any other natural adsorbent.
Activated charcoal – cosmetic application
Activated carbon is a popular addition to many cosmetics intended for the care and treatment of acne and combination skin. Homemade cosmetics with charcoal, for example, black soap, are also gaining popularity. Remember that in order to experience the wonderful properties of activated charcoal, it should be used in high concentration and be left on the skin for at least 10 minutes.
I especially recommend doing a homemade mask which literally absorbs dirt, oil, and impurities from the skin. Because it dries the skin and can cause irritation, first, run an allergic test on a small part of the skin. If there's no allergic reaction, go ahead and try out my recipe for an activated charcoal face mask!
Activated charcoal face mask – RECIPE
Ingredients:
2-3 tablets of activated charcoal
1 teaspoon of water or thick natural yogurt
if needed: more yogurt or cosmetic clay
You will also need a cup.
Directions:
Place the tablets in the cup and add a bit of water or natural yogurt, smash it and blend well. If the amount of or the consistency is suitable for you, apply it to the face. However, if you prefer it to be thicker or you need more, just add more yogurt or clay. It's best if you determine the proportions yourself based on your skin's reaction. If it's proper, next time you can try adding one more tablet of activated charcoal.
Activated charcoal face mask – how to use it?
If you're applying such a mask the first time, spread it not just all over the face but also to your neck. During the next treatment, you can add it to selected areas according to your individual needs, for instance, to the T zone. In addition, don't keep the mask on for more than 20 minutes the first use. With each next time, you can leave it on the skin longer and longer. Wash it away only when you get bored of lying down motionless.
Charcoal face mask – how often?
An activated charcoal mask can be applied twice a week, and topically – even more often. It plays the role of a cleansing treatment, therefore, it must be done regularly. For starters, you can keep applying it twice a week during the first month of the therapy but make sure to observe your skin carefully. Pay more attention to whether the skin doesn't get excessively dry. If there's nothing questionable going on, just continue the treatment.
How did the activated charcoal mask work for me?
I have a combination complexion with a tendency to acne formation. I have been using the activated charcoal mask for four months. For the first month, I've been applying it twice a week and carefully observed the reaction of my skin. It was neither dry nor irritated, so I continued the treatment, except that I limited it to one application per week. The effects were soon really visible. Already after two weeks I noticed that I had fewer blackheads and breakouts, my pores were cleansed and narrowed, and the skin began to shine only a long time after applying the foundation. Before I started the charcoal treatment, the excess sebum appeared within three hours after the application of the makeup, and now I'm about seven hours sebum-free. In addition, the skin tone is enhanced, so that it looks healthy and radiant.
I used to use a spot activated carbon mask. I applied it to individual blemishes, which disappeared entirely after about two days. At the moment, thanks to the regular application of the mask to the entire face, I almost no longer observe single skin lesions, which is why I use it spot-on rarely. I recommend both solutions to you, if you have such needs.
Recipes for other homemade cosmetics for acne and problematic skin
There are many recipes for homemade cosmetics that are intended for acne-prone and problematic skin treatment. I especially recommend two-component masks, because they are cheap, quick and easy to make. It is best to apply them 2-3 times a week and observe the skin's reaction. If you don't notice anything disturbing, go ahead and apply it to the whole face or just to the affected areas.
My proven recipes for homemade cosmetics for acne and problematic skin are:
strawberry mask for acne and dandruff,
aspirin anti-acne, anti-blemish, and anti-blackheads mask
homemade cosmetics with yeast for acne treatment.
Do you know other recipes for homemade ski cleansing cosmetics? Do you use or have used an activated charcoal in skin care If so, what are your impressions? Share them in the comments!
Previous
Does IPL At-Home Hair Removal Make Sense? Philips Lumea Advanced Review