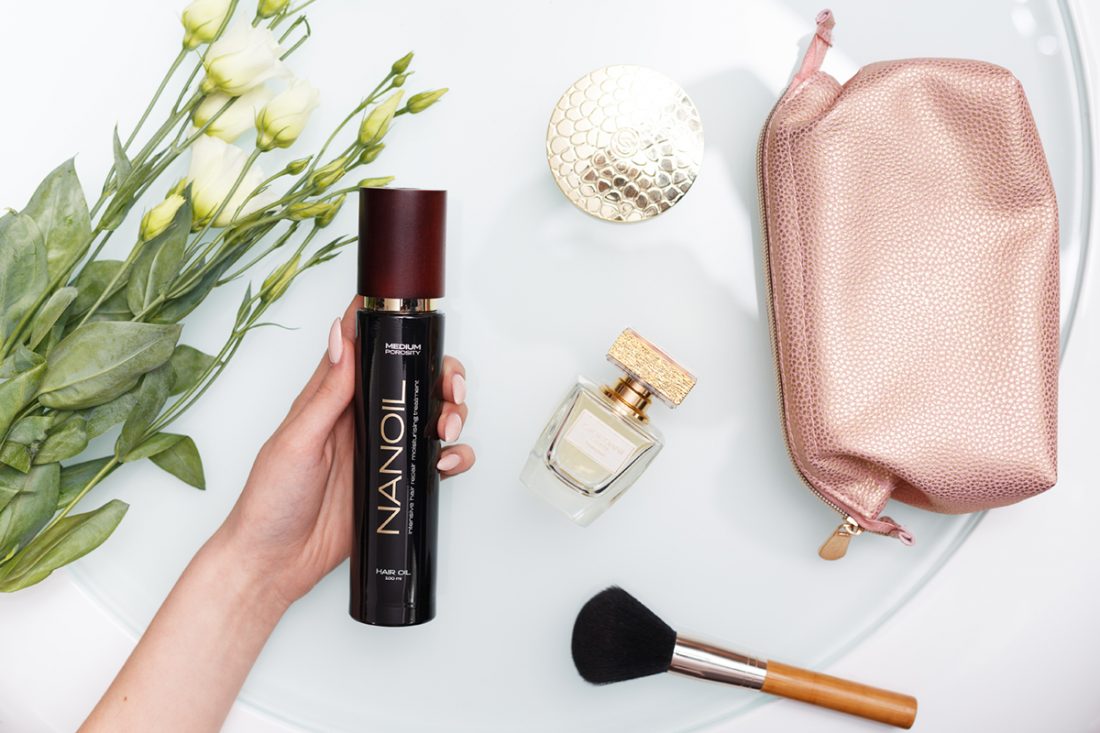 My Hair Oiling Champion – Nanoil!
Hey!
Today's post is about my beloved oil. I cannot imagine my daily hair care without it. Believe it or not but I found it … on a different blog. Now I am glad I got tempted. Let me introduce the star of this episode – Nanoil hair oil designed for three types of hair porosity.
I guess everything has been said about hair porosity and oiling. If you want to find some info, I say you go on a 'blog trip'. All good things said about oiling are definitely true. You should include oils in your hair care routine for good because oils are the remedy for all hair problems. I am serious. They can replace protecting serums, conditioners, masks, ampoules, styling primers and all hair treatments. Natural oils are simply made for hair that is made up of keratin and lipids. After all, keratin and lipids are present in vegetable oils in form of fatty acids. If you look for a natural way for better hair appearance and condition that gives 100% guarantee – I can recommend this innovative oil in all conscience. My hair is the proof.
You should learn more about Nanoil hair oil
Nanoil – three elegant oils: for low, medium and high porosity hair. The cosmetic market lacked such an approach to hair care. The arrangement of cuticle scales tells us what kind of hair care we should go for. Damaged and over-processed hair (high porosity) needs different support than heavy and easily weighed down strands (low porosity).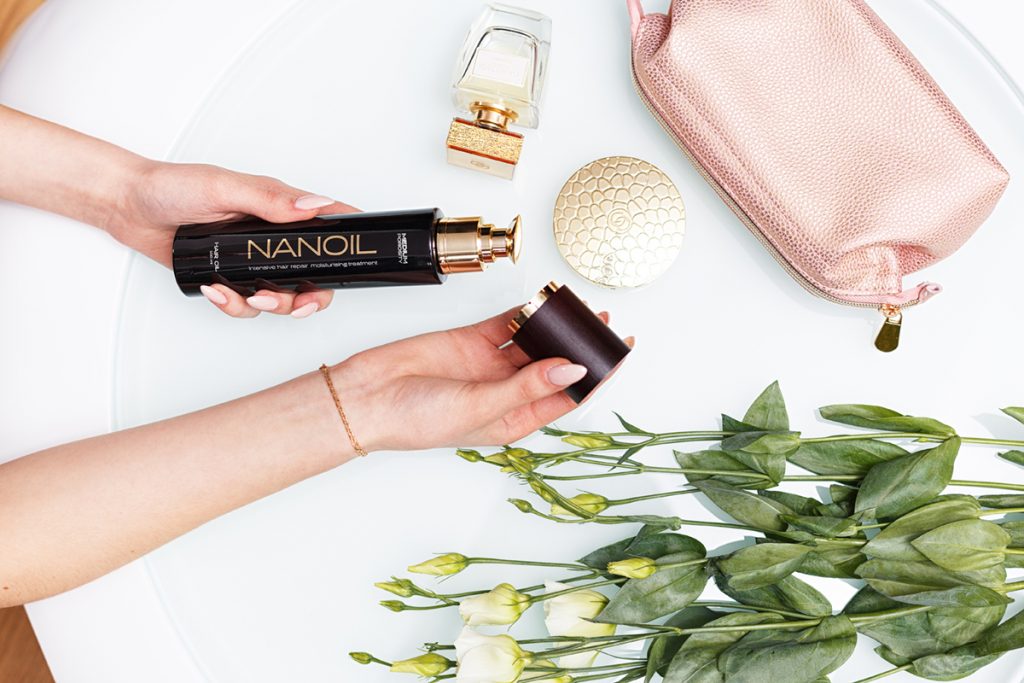 Properties:
Nanoil hair oils contain lots of well composed natural vegetable oils and butters – from 6 to 9 in one product. These ingredients have plenty of vitamins and fatty acids that nourish and strengthen the hair, and lock in water. Effect? Perfectly hydrated, regenerated, thick, strong and shiny hair. Some additional substances deliver protection from the sunlight and temperature, facilitate styling and combing, provide a natural shade and shape, control processes responsible for e.g. oily scalp or dandruff. Nanoil also includes an innovative complex – Kerastim + Baicapil – that noticeably boosts hair growth and prevents excessive falling out.
Recommendations:
Nanoils are designed for three hair types:
low porosity – straight, flat, heavy, lacking volume, easily weighed down, prone to oiliness, difficult to style;
medium porosity – wavy, frizzy, weak, dull, dry, prone to thinning and splitting;
high porosity – curly, dehydrated, damaged, over-processed, bleached or colour-treated, brittle, split.
Use:
The producers recommend using Nanoil hair oil as an intensive treatment. Depending on the length of hair, evenly cover damp hair and scalp with 2-5 drops of the oil. Once hair is covered with the oil, it is great if you can leave it in for at least an hour or longer. Washing hair again is the most important point.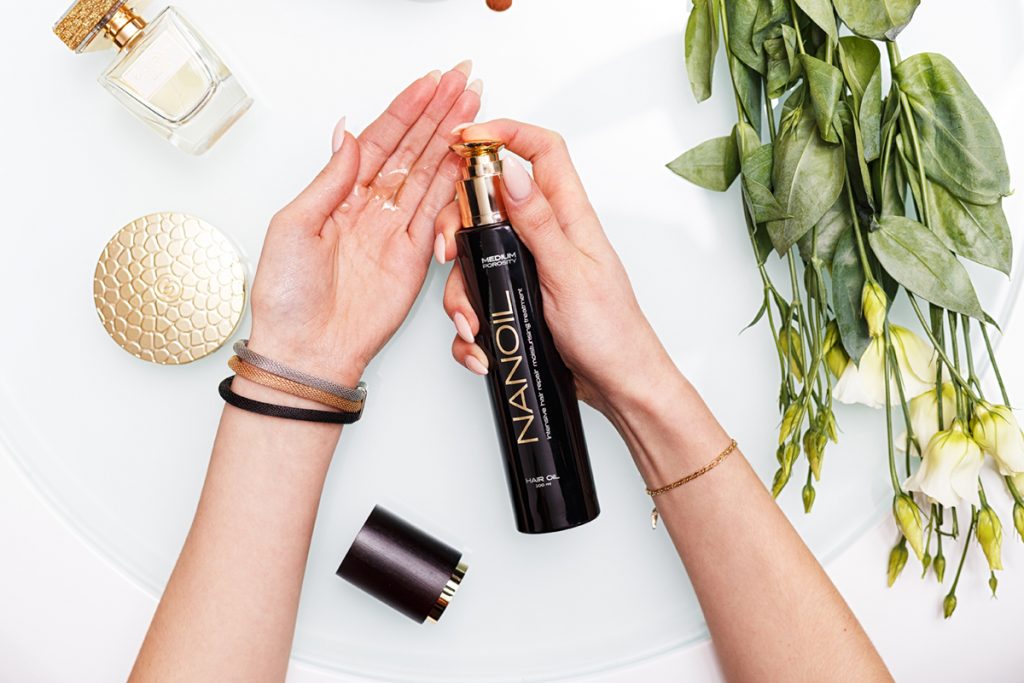 What do I think about the product?
I got myself Nanoil for medium porosity hair because I guess my hair is 'standard'. It is a bit frizzy, likes to split and sadly, not always looks the way I would like it. I have been testing it for over a month and let me rave a bit over this fancy and extremely effective cosmetic 🙂
Effects:
I could feel the action of Nanoil the moment I applied it. The oil covers hair with a delicate, velvety layer. Hair is easier to brush and does not get tangled while washing the oil off. That is not the end! Finally, I have no frizz on my head because Nanoil tames and unpoofs my hair. It is easier to style, dries off more quickly, stays smooth and soft. It has never been so luminous.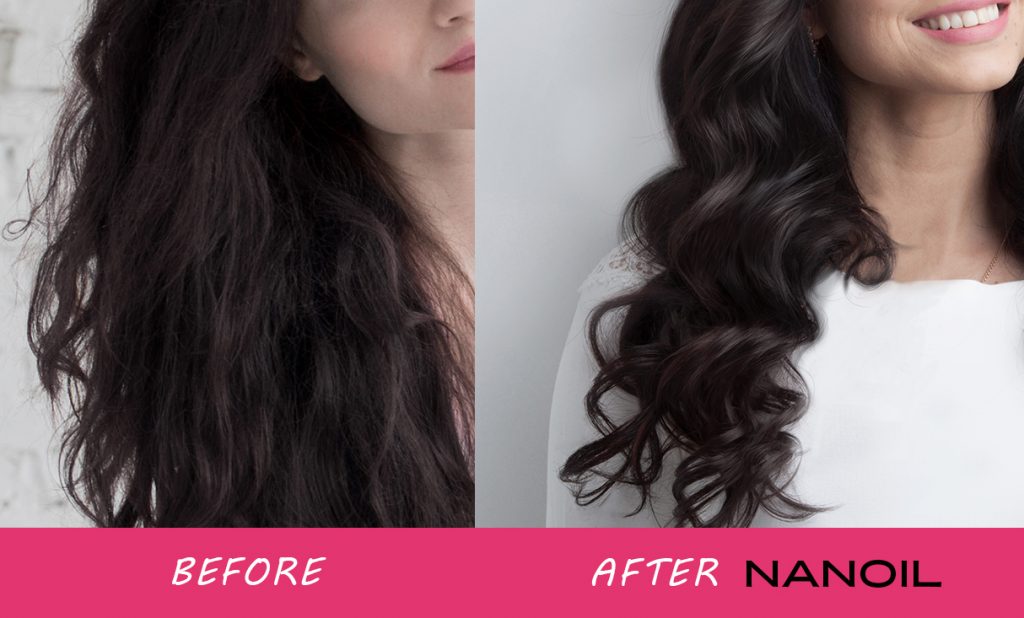 Strengthening is the effect I had to wait for longer. Regular application is really worthwhile – I noticed less falling out hair during the first week. Now, I pull my hair back and finally have a real thick ponytail. What is more, the oil boosted hair growth. My hair got a few inches longer within 4 weeks. Amazing.
Formula:
Nanoil is a satin and not very thick oil. Spreading it on hair and scalp is a piece of cake. It is absorbed in no time and leaves nothing but a nice aroma. The fragrance is not as endearing as some girls call it but I like it.
Packaging:
To me, it has one of the most impressive designs among hair oils. I used to marvel at Redken Diamond Oil (more expensive) and how amazing it looked. I changed my mind. Nanoil comes in a prettier, slimmer and more solid bottle. I really love the combination of black glass, gold pump and wooden cap. A truly tasteful packaging.
Efficiency:
No objections! The capacity of Nanoil hair oil is enough for six months of oiling (with every hair wash) or even more. I have been using it enthusiastically for a month and there is still almost the whole bottle. Nanoil is really good value for money – you need only a drop to cover middle-length hair. Nanoil is super efficient.
Have you tested? Any opinions?
17 Comments "My Hair Oiling Champion – Nanoil!"
My hair has fallen in love with nanoil : D to me, it's a marvellous mean of lowering hair porosity. Till now I used to have high potosity hair and constant problems with it. Now I can use medium porosity hair oil because the improvement of my strand condition is massive.

I guess I probably went though all possible scalp conditioners, hair washes and masks etc. and I can tell you that natural oils are the best. I can see that only hair oiling keeps my hair in a good condition, strands look better and are stronger. Surely, I won't refrain from this kind of hair care.

My hair is rather of medium porosity and I'm wondering now whether to buy this oil or not because I've heard from many sources that it's really good. But the price… 🙁

indeed, the price might be slightly putting-off but I find this oil very efficient and the bottle contains 100 ml so you will be able to use it for a few months

Recently, I've noticed that condition of my hair deteriorated despite using good hair products. The hair is falling out, is dry and frizzy. I'm thinking about oil hair treatment; I've already ordered the oil but I'm not sure which method to choose.

I treat my hair with oil before almost each washing and I try to let the oil sit on the hair for 2-3 hrs. After washing, I add a dash of oil instead of a conditioner and then my hair needs no other cosmetic, no spray conditioners, nothing 🙂 I used to have a similar problem with my hair and this helped me a lot.

Just give a go to various methods of applying oils to hair so you'll find out which one suits you best. I spend just a few minutes on puttin on the oil to my dry hair at bedtime and I go to sleep with a towel on. In the morning I wash my hair and I don't even need to apply any conditioner at all.

I had a persistent problem with split ends and this oil finally improved their conditon 🙂 It fully protects the hair ends. Also the oil is amazing when it comes to delivering heat protection. Using a flat iron isn't so destructive for hair any longer.

This oil was one of my b-day gifts, and I also find it being a very good product but I'm not sure whether I'll get another bottle due to the price. For the time bing, I've been an owner of this oil for 3 weeks so far and I try to use it reguralry. So far it's ok. Let's wait for the outcomes that will be produced later.

It doesn't suit me. I find my hair being very overburdened after applying the oil. Of course hair is soft, easy to comb but right after blowdrying becomes flat. I guess natural oils aren't made for me.

which nanoil have you got? Perhaps you've misatched a type of the oil to your hair and this is why you obtain this effect of flat hair. Take a closer look at your hair and make sure what porosity level it is and then select the corresponding oil

Oil might be OK so, from my perspective, you should change the way of hair oiling. Maybe try to let the oil sit on hair shorter?

what's that fuzz about hair oiling among bloggers?

I use sesa to oil my hair with but it's slowly becoming too hard for me to stand this smell, it gives me a headache so I want to replace it with some other oil which will thicken my hair because laterly it's become poor. When I'm reading what you wrote I think that this oil might help me because I've learnt about hair porosity issue fairly recently. Therefroe, I'm not sure which Nanolil I should get. I'd describe my hair as damaged, brittle, I color it often but it isn't curly but sligthly wavy and is matte

I used to have a similar problem 🙂 I ordered medium porosity hair oil and it turned out to be superb! It regenerates hair completely!!

I started to treat my dry as a bone hair with linseed oil. I think my hair likes the oil but it's a pity it smells bad ;/

I've been using the same Nanoil for a week now and i've conducted 3 oilings so far ( overnight) so I can report my hair being super soft and pleasant to the touch once I remove the oil. The outcome is completely different than when compared to using a regular conditioner. And this wonderful fragrance. I'm glad that I reached for this oil, and this happened thanks to your entry 😀
Previous
How to get rid of blackheads? My reliable methods for cleansing