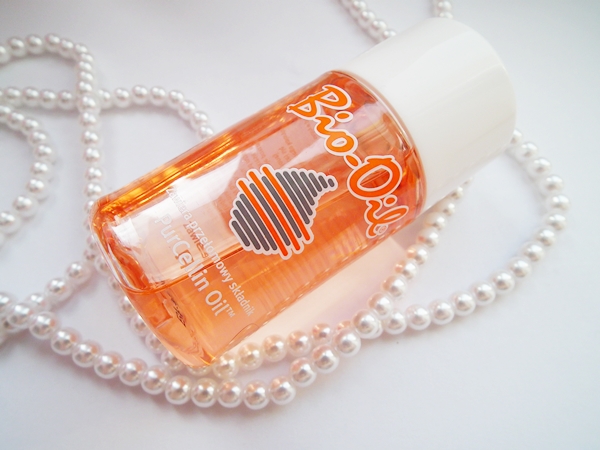 Bio Oil – face, body and hair test – effects and opinions after three months
Bio Oil is a well-known cosmetic around the world.
There are no women who wouldn't hear about it.
The product is designed to reduce the visibility of scars and stretch marks and is especially recommended for pregnant women of after giving birth. According to the producer, the cosmetic will help get rid of not only new but also the older stretch marks.
I was very curious whether the producer's promises will be fulfilled or not.
What's more, not many women are aware of the fact that Bio Oil can be used on the face and hair as well. It is to remove pigmentation spots, brighten and bring relief to the skin, smooth and enhances its elasticity. Bio Oil is also suitable for hair – the oil content is aimed to smooth the hair, protect it, highlight and prevent drying. Thanks to the oil, the strands do not lose water from within. Bio Oil – as a source of 5 essential oils and marigold flower extract should take perfect care of your hair …however, no one has ever examined it in this area – all women focus on its benefits for the body – no wonder it gained the reputation of oil for stretch marks and is primarily associated as an oil for pregnant women … nobody thinks about using it as a conditioner for hair.
However, is it a really good idea that the future moms use oils with high content of paraffin and synthetic substances? Do you even realize where are the 5 natural oils really 'swimming'? I will be honest: it is a soup made of chemicals and synthesizers, intermixed with chamomile oil, lavender oil, castor oil, rosemary oil and a large amount of sunflower oil. Oils – cool, but before you reach for Bio Oil (especially when pregnant), think carefully whether you really want your baby to be exposed to this type of substances: paraffinum liquidum (paraffin), eugenol farnesol, geraniol, hydroxycitronellal, hydroxyisohexyl 3-cyclohexene, carboxaldehyde, limonene, linalool … in other words substances that belong to artificial chemical components responsible for the aroma and durability of the product. They are not recommended for pregnant women. If they are applied, for example, to the hair – and have no contact with the skin, they are not as harmful. However, BioOil is to be used for massaging … so what is this all about?
Bio Oil for scars and stretch marks – how does it work?
Ok, let's say that a woman who is not pregnant (like me) wishes to get rid of small stretch marks and scars. How will it work? To be honest, my stretch marks are still there and after two months of regular use, I was pretty much devastated. Unfortunately, I didn't notice any improvement. ;(
However, during the third month of use, some things started changing. I am not sure whether it was the Bio Oil or just the regular massages I gave myself (it definitely boosted blood circulation and increased elasticity), nevertheless, in the third month, I noticed my stretch marks less visible. They did not disappear completely, I don't believe in such miracles, but it looked as if their colour faded. Therefore, In my opinion, using Bio Oil to reduce the visibility of stretch marks and scars brings benefits, however, only after pregnancy.
Will Bio Oil remove wrinkles? 
This is another question left unanswered. Every woman who purchases Bio Oil intends to apply it to the belly or thighs, and no one came u with the idea to use it on the face…and that's ok. With so many comedogenic, pore-clogging substances, I wouldn't recommend using Bio Oil as a face care treatment. And yes, I am aware of the fact that some facial creams we buy on a daily basis, contain a lot longer list of harmful substances. However, when buying a face oil, we expect to get something that is rather natural and safe. Also, if taking into account the oil's high price, we really count on a good-quality product. I have applied Bio Oil to my face, to the under-eye area only a few times. Neither the scent nor the effects satisfied me. The excess of etheric substances made my eyes water and I thought that instead of taking care of my skin, I only made my life more uncomfortable. The anti-ageing treatment with Bio Oil is a complete failure.
Bio Oil for hair – it is suitable? How does it work? – my opinion 
Girls … I do not know how to say it, not to disappoint you. It is not that this oil does not work on hair, but do not count on miraculous effects since the cosmetic has as much good as bad substances in it. Bio Oil is an oil that smoothes and increases shine immediately after the application. Those of you who have dry, stiff, frizzy or "straw-like" hair, will feel very comfortable when using Bio Oil. However, it is worth remembering that the oil only temporarily improves the appearance and condition of the hair, because prolonged use can increase dryness.
Bio Oil – opinions, effects, summary – is it worth it?
Well, to be honest, I really do not know what to tell you about this oil. It seems to be ok, but not entirely, it kind of worked, but not fully… If you are not obsessed with natural oils and you are not terrified of synthetic substances, parabens and silicones – you can go ahead and try it out. Six oils in the composition, vitamin E, vitamin E are good enough for a cosmetic. Everyone who wishes to get rid of minor stretch marks and reduce the visibility of the bigger ones, will be happy with the results. Also, it will increase hair's shine and resilience as long as you do not overuse it. All in all, if you already have it at home – use it up.
I will not purchase it again. For this price, I have a really wide selection of face, body and hair oils, and besides: I prefer to pay extra and buy something that I will be 100% sure of.
Have you ever used Bio Oil? How did it work with you? Maybe you know some other uses of the oil? Please let me know:))
Previous
Thread, Wax or Tweezers? The Most Effective Eyebrow Shaping