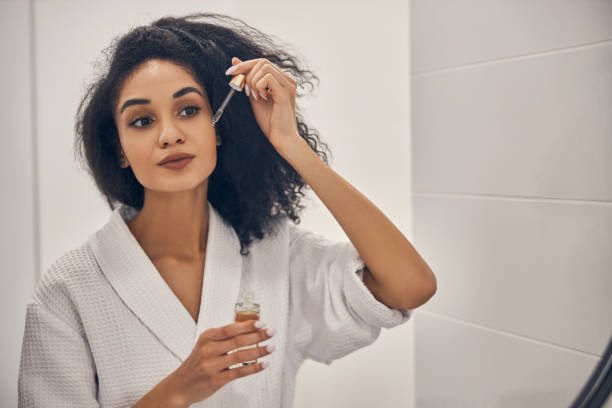 My FAVE Anti-Redness Face Serums List. Subjective Ranking
Hey again,
You keep asking me about care products that are good at erasing redness from the face. I think I've tested quite a number of such cosmetics, and I need to tell you that most of them left me with… nasty skin irritation. After a few months I luckily managed to find 4 amazing products that I can wholeheartedly recommend. But before revealing their names, let's focus on one important aspect, which is…
How do I use a face serum?
I applied (or still apply) each of the face serums listed below twice a day: morning and evening. I do this on perfectly clean skin, after applying a face tonic. Some serums penetrate skin faster than others, but I'll discuss this topic later. When my skin soaks the serum fully, I follow either with a night moisturizer or a day cream with SPF.
MY FAVE ANTI-REDNESS FACE SERUMS
1. Nanoil, Anti-Redness Face Serum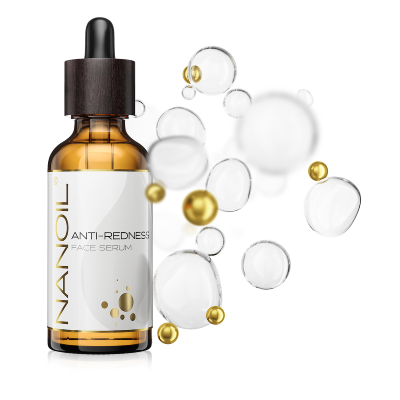 Nanoil Face Serum is my absolute fave, hands down. There are a few things I love about it. For example, it penetrates skin very quickly and can be worn under makeup. Even though it's water-based, Nanoil serum is easy to apply and spread evenly over the face – I use the dropper it comes with, putting on just 4 or 5 drops per application. Now let's move on to what is the most important – the effects. When I put Nanoil serum on my skin, I can see that the redness is getting less visible and irritation fades away – skin feels soothed.
When it comes to the long-term effects, Nanoil Anti-Redness Serum erases spider veins and all red splotches from the face. I've learnt that it's due to chestnut extract, which is an ingredient able to repair broken capillaries. Apart from that I can see that my skin has become more resistant to wind, low temperatures and other irritants that used to cause a reaction.
I've also read that the Nanoil serum slows down skin aging, which is great. Ever since I learnt that Nanoil launched a new serum, I've been using it. One bottle holds 50 ml and lasts really long, even though I apply the serum twice a day. If you need to get more information on Nanoil Anti-Redness Face Serum, check the official website: www.nanoil.us.
2. Medik8, Calmwise™ Serum, Soothing Elixir for Redness-Prone Skin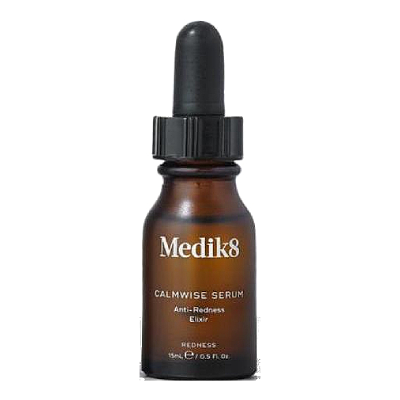 Medik8 anti-redness serum is my second favorite soothing product. It works similarly to Nanoil but the formula is totally different. Generally speaking, Calmwise™ Serum Soothing Elixir is perfectly suitable for those with couperose and acne-prone skin, which also makes it ideal to deal with rosacea. What is its secret? To me it's sage extract. From what I know, sage is antibacterial and anti-inflammatory. This soothing face serum also brightens discoloration and minimizes the appearance of capillaries. The formula is lightweight, making it easy to spread the serum over the face. This quality also promotes quicker penetration.
There is one drawback about Medik8 Calmwise Serum, but you know what? I see it as a plus. One bottle holds just 15 ml of the serum, and the price per item is quite high. If you use it on a regular basis, Calmwise Serum won't last long. However, I managed to make use of this small size – that's my travel-size anti-redness serum. The bottle fits everywhere.
3. La Roche-Posay, Rosaliac Anti-Redness Intense Serum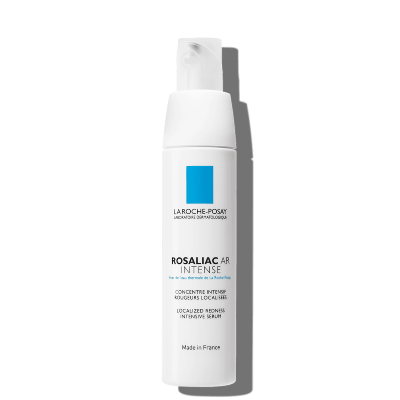 This brand and its beauty products aren't anything new to me. What's interesting, some of their products serve my skin really well, whereas others are a complete disaster. To be honest, I didn't like Anti-Redness Intense Serum at first because I had the impression that this product didn't do much to my skin – especially when I compared the effects to the results delivered by the two serums mentioned above. However, I started to like it over time.
It can't be denied, La Roche-Posay serum gives me this almost instant feeling of soothed and relaxed skin. Thermal water is the main reason for this pleasant effect. That's why, I reach for this face serum when my skin has a bad day, so to say, which doesn't happen very often (luckily!) I also know that Rosaliac Anti-Redness Intense Serum combats and prevents redness. Although you need to be patient to see these results, I think they are worth it. When it comes to the texture, this serum is gel but it penetrates skin pretty fast. If I apply it, I do it only at bedtime.
4. Origins, Mega-Mushroom Skin Relief, Advanced Face Serum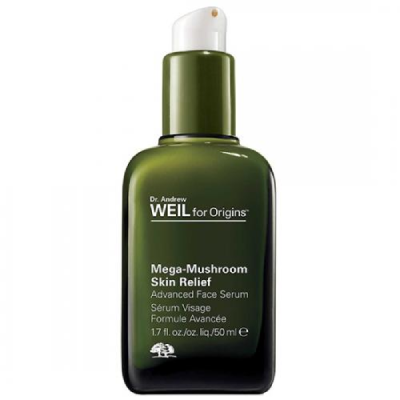 I love Origins and I've been using many of its products, so I couldn't give up on testing Mega-Mushroom Skin Relief. Because this serum delivers better results when paired with Mega-Mushroom face cream, I had to buy it too. I won't lie, this purchase wasn't easy on my pocket, and that's why I chose the smallest serum – 30 ml, but there are also 50 and 100 ml variants. The name of this product isn't just a marketing trick to make you buy the serum. The key ingredient is reishi mushrooms. What are they?
First thing is that I truly believe that reishi mushrooms are the main source of the aroma. They must secrete some specific smell, which isn't to my liking, and that's why I apply the serum only at bedtime because my moisturizer makes the aroma fade away faster. As for the effects, to me, this serum is really good at moisturizing the skin and reducing the problem of skin inflammation. Sadly, I couldn't notice much of redness removal. Skin isn't more resistant to irritants either – and that's why I give it the last place in my subjective ranking of anti-redness face serums. But don't get me wrong, I think that Origins Mega-Mushroom Skin Relief Advanced Face Serum is a really good product, but I like the above ones better.
So, these are all of my favorite serums dealing with couperose skin problems. As you already know, I like Nanoil Anti-Redness Face Serum most and that's why I'd recommend it for your everyday use, and Medik8 Calmwise Serum for journeys. If you have any questions or wish to know more about these products, leave a comment below.
Last but not least, let me know what face serum(s) you want me to test next time.
Kisses :)))