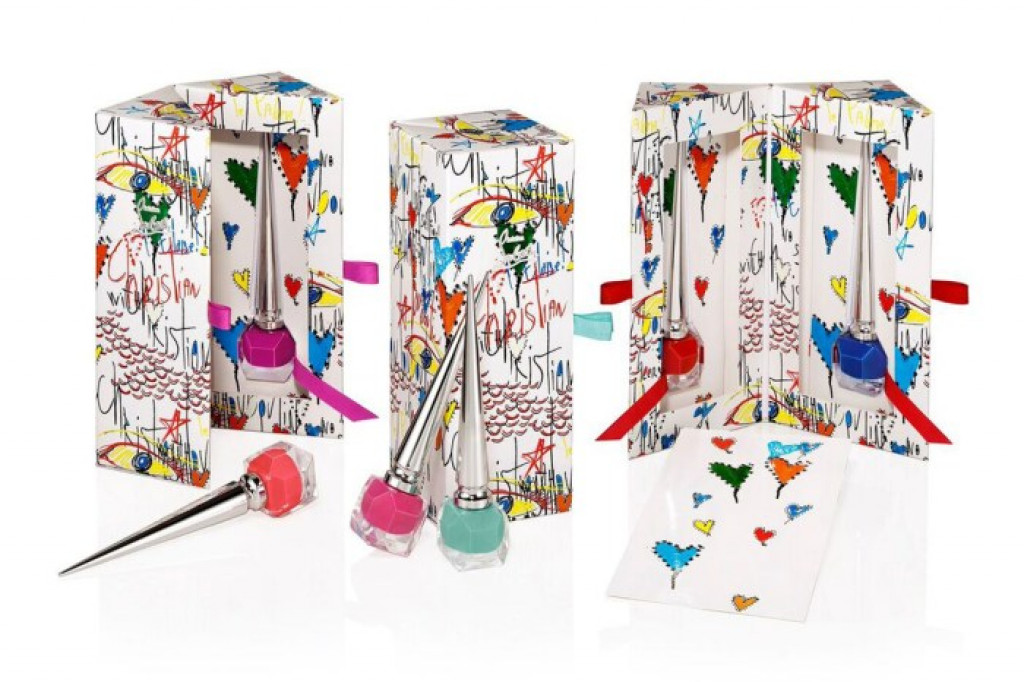 New fingernail lacquers by Christian Louboutin, Loubitag Nail Color
Hello!
Definitely, Christian Louboutin likes surprising his customers. This time he designed fingernail lacquers that are clearly connected with his specific accessory collection Loubitag. I'm sure, you will recognize them easily and the colours you notice will sweep you off your feet. Are you ready for this kind of color-madness?
Loubitag – Colourful collection
Not only the fingernail lacquers themselves are very colourful because the boxes the beauty products go in feature plenty of colours as well. Christian Louboutin matched them with extravagant pairs. As a result, we have Pops collection shades:
fuchsia Pluminette and mint Batignolles;
cobalt Baraboum and red Edgypopi;
amaranth Bolidonna and coral Miss Loubi.
The card boxes are decorated with colourful doodling and tiny drawings. The packaging can be open due to multi-colour ribbons. Inside, there are two compartments, each housing one fingernail lacquer. You probably have already guessed how the bottles look like. These are made of glass and resemble fancy geometric shapes. Of course, the handle of the brush can be easily linked with the world-famous Christiana Louboutina high-heels.
What is the effect of Christian Louboutin fingernail lacquers?
First and foremost, these are original and vivid colours which perfectly match brave and go-getting girls. Surely, they will go with party outfits and hairdos. I need to point out that the brushes of Loubitag Nail Color are profiled in such a way to maximally facilitate coating fingernails with the product. Moreover, these lacquers by Christian Louboutin dry out fast, the applicator doesn't leave any smudges and the fingernail plate is perfectly smooth.
Loubitag Collection
New collection by Christian Louboutin has more than just fingernail lacquers. We also have here wallets, make-up bags, bag packs, bracelets, file organisers, hand bags and shoes. Of course, all the items features original graphics, which are colourful doodling as well as funny images and inscriptions. If you want to, you can choose such gadgets, thanks to which, you will create your own colourful collection.
Previous
Vegetable care? Discover the properties of parsley seed oil